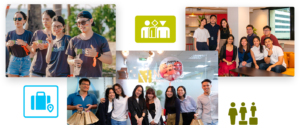 At Nexus FrontierTech, we believe in promoting diversity, equity, and inclusion in all aspects of our work and culture.
With a workforce that is 50% female, we are proud to have a balanced representation of genders. 
We also recognise that remote and flexible working arrangements play a crucial role in promoting diversity and inclusion.
By offering these options, we aim to support our global talent pool, regardless of their location or personal circumstances.
With our global workforce comprising over a dozen nationalities, we are committed to creating a workplace culture where every member of our team feels valued and respected, regardless of their race, ethnicity, gender, sexual orientation, ability, religion, or any other aspect of their identity. By embracing diversity, we believe that we can foster a more creative and innovative environment, and better serve our clients and communities. We will continuously work to identify and eliminate any barriers to inclusivity and strive to create a welcoming and supportive atmosphere for all.