Nexus's AI Factory – Kickstart your AI journey at speed and scale
A McKinsey global survey revealed that over 50% of businesses worldwide had already adopted AI in at least one of their business functions. In the UK alone, over 73% of business leaders see AI playing a crucial role in their organisations' future. There's no doubt that AI will play a pivotal part in any business' digital transformation strategy and is quickly becoming a necessity in order to stay competitive. However, even though business leaders understand the AI's importance, they still struggle to successfully identify opportunities for and successfully implement AI solutions into their processes.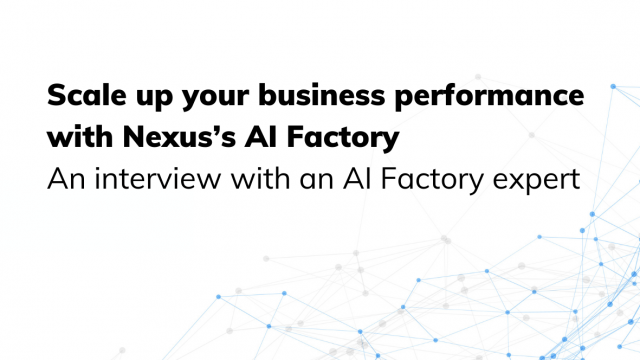 Why? There are a myriad of challenges business leaders face when it comes time to kickstart their organisation's AI journey. It's not as simple as developing a successful pilot and implementing it overnight. From identifying the highest-impact business cases, to making sure solutions can scale, to integrating an AI solution into already-existing legacy processes, digital transformation is no small feat, and takes a team of highly-trained business and technology experts to execute.75% of enterprises will shift from piloting to operationalising AI by the end of 2024. (SOURCE: GARTNER TOP 10 TRENDS IN DATA AND ANALYTICS FOR 2020)
Challenges
IDENTIFYING HIGH-IMPACT BUSINESS CASES
Companies often implement AI technology and then look for problems it can solve, instead of starting with the business needs themselves. This leads to wasted time and resources and may result in no high-value case identification.
UNCERTAIN ROI
It's difficult to measure and predict ROI. Moreover, AI and machine learning bring about improvement in quality and efficiency which may not be visible immediately.
SOLUTIONS THAT DON'T SCALE
AI solutions can be made to address specific processes, but many times these solutions cannot scale. This lack of foresight results in an expensive lesson for many organisations who invested heavily in short-sighted projects.
LACK OF EXPERTISE
A lack of necessary skills and expertise in-house is a major blocker in the early stages of AI adoption, especially for smaller and medium-sized companies
INTEGRATION INTO EXISTING PROCESS
Integrating AI into a company's existing functions is a major challenge, especially when the reengineering of these processes involves downtown and employee training.
What is Nexus' AI Factory?
The AI Factory works as a pilot production centre for companies where they can discover, evaluate and scale AI opportunities within their organisation. We help businesses accelerate AI adoption at every stage: from business case evaluation to Proof of Concept to production and monitoring.
A Tour of the AI Factory
See how a journey through the AI Factory produces an AI roadmap and successful PoC in under 3 months:
Use case gathering
Business analysis
Technical feasibility assessment
Pilot development
Implementation proposal development
A Nexus AI consultant conducts user interviews and gathers business use cases that show potential for further development and ROI and develops a list to be evaluated
Our business analyst conducts a 360 scan of your processes and functions to evaluate which ones are most primed to be enhanced with AI and the implications of such enhancements.
Our technical expert ideates high level pilot solutions of use cases and assesses the data and AI-readiness of each one. One (or more) use cases are then chosen to move forward into development.
Our team experiments with pilots to demonstrate the capability of AI technology for your business and develops a pilot with mockups to gather feedback from stakeholders.
Our technical expert and Business Analyst assess implementation options and propose solution architecture for success with pilot projects and recommends strategy for continuous model learning.
Output

Case funnel
Collection of use cases with assigned champion

Output

List of priority use cases
Initial pilot design

Output

Preliminary solution design

Output
Output

Proposal for full implementation
Your Dedicated Nexus Team
Each one of our clients is assigned their own dedicated team of Nexus experts who work hand-in-hand with organisation stakeholders to deliver results in line with their objectives.
Partner: Guides and advises on strategic decisions, course corrects if necessary and brings new proposals to the table when opportunities arise.
Consultant: Manages and implements tools and frameworks and prioritises use cases to achieve client's business objectives.
Business Analyst: Articulates ideas, business value and desired outcomes for each use case, build ROI calculations and makes recommendations for to-be processes.
Technical Expert: Ideates pilot solutions, assesses the data and AI readiness of use cases and recommends a strategy for continuous model learning.
Benefits
Develop pilot projects that grow beyond PoC and ensure sustainable ROI
Identify potential bottlenecks and create viable solutions
A team of AI strategists, engineers and business consultants dedicated to your organisation
Prepare business leaders to be ready for digital transformation with AI
Create a cost-efficient plan of developing AI solutions
What Makes the AI Factory Different?
RAPID TURN AROUND TIME: Production of an AI roadmap and successful PoC in less than 3 months
SOLUTIONS MADE TO SCALE: Use cases are identified and solutions are made with scalability in mind
BUSINESS & TECH KNOW-HOW: A dedicated team of AI and industry experts working closely with your team
BUSINESS PROCESS REENGINEERING: Our team works with clients to design solution architecture and process workflows
KNOWLEDGE TRANSFER & TRAINING: All knowledge and management frameworks are transferred to clients with strategy for future projects